Development of a thin and lightweight 15.0-inch LCD module
For immediate use Apr. 27, 2017
NLT Technologies, Ltd.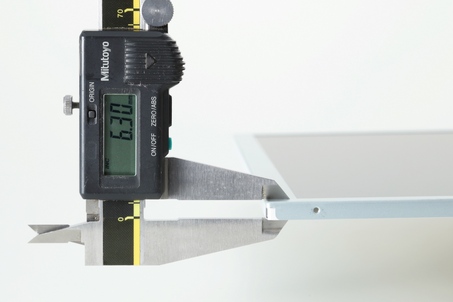 KAWASAKI, JAPAN, April 27, 2017 --- NLT Technologies, Ltd. (NLT, President: Deshu Yu; Head office: Kawasaki, Kanagawa) announces development of "NL10276AC30-53D", a thin and lightweight 15.0-inch LCD module with XGA resolution (1024 x 768 pixels) for industrial applications such as POS and ATMs. Its mass production is planned to start in June 2017.
The developed module utilizes, a slim LED backlight supported by optimized design of its backlight system. Accordingly, it has achieved a thinner and lighter body having a width of 6.3mm and weight of 640g, which are approximately half as compared to conventional modules in the same size range.
Further, the new LED backlight with excellent luminous efficiency enables less power consumption. Typically, a thin LCD module results in an inefficient light use, leading to a tendency of power consumption to increase. However, the new module utilizing the high efficiency backlight can prevent the increase associated with the thin body and, therefore, excellent performance of 500cd/m2 luminance and 8.5W power consumption can be achieved.
POS systems are widely used for sales management in distribution, retail, and other industries, and more compact footprint and improved design are much demanded for terminal equipment. Consequently, thinner, lighter, and more power-saving display modules are also in need. The development of the thin and lightweight model meets the market need by enabling more compact design of devices to which the LCD module is to be mounted, which will eventually contribute to improved convenience for users.
The prototype of new LCD module will be showcased at "Embedded Systems Expo 2017" (East 4-65), May 10-12, at Tokyo Big Sight in Japan, "Display Week 2017", May 23 to 25 in Los Angeles, California, USA, in booth 1005, and "Computex Taipei", May 30 to June 3 in Taipei, Taiwan.
Main specifications of 15.0-inch XGA model
Part number
NL10276AC30-53D
Resolution
1024 x 768
Luminance
500 cd/m2
Contrast ratio
1000:1
Viewing angle
(H)160°/ (V)160°
Power consumption
8.5 W
Interface
LVDS
Outline dimension
326.5(W) x 253.5(H) x 6.3(D) mm
Weight
640 g
Remarks
Color gamut 60%
Built-in LED driver board
The press release and other information in this file may be out of date on observation.