Development of NEW LCD Modules with Ultra-High Luminance
For immediate use May. 19, 2017
NLT Technologies, Ltd.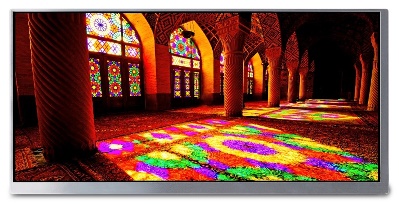 KAWASAKI, JAPAN, May 19, 2017 --- NLT Technologies, Ltd. (President: Deshu Yu; Head office: Kawasaki, Kanagawa) announces development and launch of an 11.3-inch wide LCD (888 x 408) which is ideal for gaming applications.
The new product not only has a distinctive module size of 271.8 mm width x 133.0 mm height (aspect ratio of 37:17) but also adopts a narrow frame design with the narrowest side length being 2.3 mm, enabling stylish application design in which, for example, multiple displays are aligned side by side.
The main characteristics are as follows.
1. Enhanced color reproduction
The new product utilizes a high color rendering LED at the backlight to guarantee wide color reproduction space, achieving enhanced color reproduction of 88% NTSC ratio. This characteristic delivers great performance when used in applications that require more vivid and realistic images such as gaming.
2. Clockless Link™ *1 interface
The new product uses Clockless Link for its interface. Clockless Link is a differential serial interface based on Clock Data Recovery, which can largely reduce the number of signal lines and connector pins. This contributes to cost reduction and compact design of applications equipped with this module.
3. Luminance adjustable with both hardware and software
The luminance of the display can be changed in four levels with a slide switch. In addition, the backlight luminance can be adjusted in a range of 15 to 100% through software settings, enabling display of images with optimal brightness that meets various operation environments and applications.
The new LCD modules will be showcased at "SID Display Week 2017", May 23 to 25 in Los Angeles, California, USA, in booth 1005.
Main specifications of 11.3-inch wide model
Part number
NL8840AC29-01
Resolution
888 x 408
Luminance
500 / 400 / 350 / 300 cd/m2

*Adjustable in a range of 15 to 100%

through the backlight input voltage setting.

Contrast ratio
800:1
Viewing angle
(H)176˚ / (V)176˚
Power supply voltage
Signal: 12.0V / 15.0V
Backlight: 12.0V / 15.0V
*12V single power supply
Power consumption
5.8 W(typ.)(at maximum setting)
Interface
Clockles Link*1
Outline dimension
271.8(W) x 133.0(H) x 8.3(D) mm
Weight
335g
Remarks
Super Fine TFT
LED life time: 50k hours (typ.)
Built-in LED driver board
Color gamut 88%
Thin and narrow frame design
*1: Clockless LinkTM is a ROHM Co., Ltd.'s proprietary interface standard.
http://www.rohm.co.jp/web/japan/groups/-/group/groupname/Interface

The press release and other information in this file may be out of date on observation.