Received SID's Distinguished Paper Award for a research paper at SID Display Week 2017
For immediate use Jun. 16, 2017
NLT Technologies, Ltd.
We are pleased to announce that our research paper on a newly developed viewing-angle-switching technology received the Distinguished Paper Award at an annual symposium of SID Display Week 2017, held in May 23 to 25 in Los Angeles, USA. This technology will be able to achieve highly privacy-concerned image display in a public environment in the future.
The title of the paper:
(76.3) "Viewing-angle-switching device based on array of optical micro-rods incorporated with electrophoretic material systems"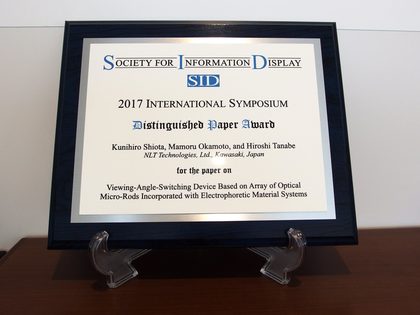 Society for Information Display
The press release and other information in this file may be out of date on observation.