Super Fine TFT Technology


Consistent high luminance and wide color gamut

High luminance and wide color gamut are both essential elements to achieve high LCD image quality. Until recently, however, one was possible only at the expense of the other. Generally, LCD color representation is achieved through a combination of color filters and light source. An expansion in the color reproduction range (color gamut) can be attained by using color filters with thicker colored films. However, luminance declines if the color filter is combined with the backlight system, since LCD panel transmissivity decreases.

Tianma Japan offers users both high luminance and wide color gamut in every LCD we produce - and the improved color performance that goes with them. The key breakthrough came as a result of the improved transmissivity achieved by our SFT technology.
Thus, a wide color gamut exceeding 70% the color gamut of NTSC is possible, without sacrificing luminance, for products intended for applications requiring accurate color reproduction. The clear, vivid color reproduction stands up to the toughest professional standards in applications including broadcasting, graphics and medical use.

Note: In monochrome products and other products intended for fields not requiring a wide color gamut, improvements in transmissivity based on SFT technology are being applied to achieve higher luminance.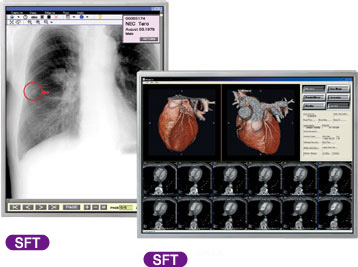 SFT is an abbreviation for Super Fine TFT.