Projected Capacitive Touch Panel
View, Touch, and Convey
What's PCAP?
Projected Capacitive
Electrodes are aligned in a grid pattern on the sensor side of touch panel. The grid detects the touch point by sensing the change of electrical charges that occur when a finger touches the surface of the touch panel. The PCAP touch technology has the added advantage of durability because it has no degradation to the surface of the display or the performance of the touch sensor.
The PCAP touch panel has no air gap inside the touch panel unit, making it ideal for applications used in bright ambient light.
PCAP by Tianma Japan
One-stop solution
Tianma Japan provides factory installed touch panels with touch panel controller included. Thanks to our in-house design and manufacturing capabilities, we are able to offer high quality, integrated PCAP products direct from the factory – a one stop solution with factory warranty.
Total support
We provide factory tuned PCAP products, drivers and offer special tuning software as part of Tianma Japan' total PCAP solutions, in order to better support customer needs and help ease adoption of our PCAP based modules.
Size line-up
Tianma Japan provides LCDs for industrial use in a wide variety of sizes and configurations, with PCAP touch sensors that are designed to specifically and ideally match the base LCD. This includes PCAP products for use in both indoor and outdoor applications.
Standard component integration
An LCD module and a touch panel are attached with adhesive via a perimeter bond. The addition of a cover panel on top of the PCAP sensor glass is optically bonded, using an optically clear resin.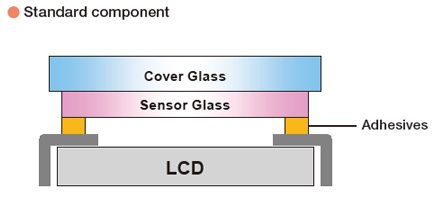 Optional component integration
Tianma Japan' PCAP touch panels offer valuable component and structural options.
Surface film
The most requested surface treatments offered in conjunction with Tianma Japan' PCAP products are anti-reflective, anti-glare, anti-finger print, and shattering proof.
Optical bonding
To adhere an LCD panel and sensor glass, we offer optical bonding as an option. Optical bonding uses an optically clear resin adhesive to fill up the air gap between the LCD and sensor glass. This improves readability in outdoor and other high ambient light environments, as well as providing additional strength to the overall structure of the LCD module.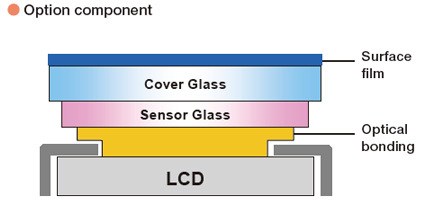 Custom cover glass component
In addition to standard cover glass, Tianma Japan offers customized cover glass options such as chemically strengthened, etching, coating, custom shape, or decorated glass.
PCAP Generation2
Wet & Glove Technology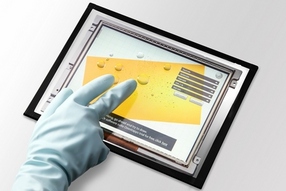 Wet & Glove PCAP models are able to be operated even when the screen is wet and the operator is wearing gloves. Furthermore, by tuning the controller, the touch screen can be operated when the operator is usinvarious medical gels on the surface of the screen, or when the operator is wearing thicker, industrial gloves.With this technology, PCAP touch panels will be available to support high end display devices used in special conditions such as construction, marine or medical equipment.